Affordable Lighting Hack (Every Photographer Should Know)
What is the "Luci light"?
Always on the lookout for a cheap photography lighting hack, I first ran into the lights at a rooftop bar in Laguna Beach, CA. It was a birthday gathering and I was amazed how they were able to illuminate an entire rooftop just by the lights on each table top. What?!
I wasn't a fan of the look first, because it's an inflatable mini-beach ball looking device on each table. I'm a sucker for good aesthetics it didn't exactly class up the joint. Moments later I realized that the light they produced was beautiful and soft. The shadows weren't' overwhelming, the highlights didn't distract and yes this is how I see the world. I judge you by the lighting in your space.
I picked one up, saw the components underneath and instantly a fan of the light. It had solar panels underneath the light! You guys, these are rechargable by the sun and i'm already in love. The beautfiul light coming from it didn't exactly hurt either! Oh boy, how can I use this for photography and videography? My mind is working and not exactly focused on the party but a good discovery is a good discovery!
Do I Need to Have Photography Lights?
Going back to the start of my career, this makes me happy...so happy! What I wouldn't do for cheap and efficient lights for my photography? If you've followed my Instagram or Youtube Channels then you'll likely be familiar with my story of the come-up. No money, resourcefulness and not giving up!
Do you need professional photography lights? No, not initially and I would encourage you to stay away from them at first. Why is that? How can staying away from photography strobes be a godo thing Walid? That's what I did, and I feel that I'm a stronger photographer because of it. I feel that I was able to beat out a lot of my competition because I had the training of the harder life. Not having a lot of money is an asset if you allow that to happen.
How Can Using Luci lights Help Your Photography?
With the softbox diffusion
Let me be fair, using Luci light will help your photography career but so will using comparable lights. My agenda is to teach you about alternatives and not push one company. Luci light did not pay me for this review and honesty is the first priority for me. They did, however, send me a few to review after I saw them on the rooftop and contacted the company.
Now I will make a statement: Yes, using cheap lights for your photography will make you a better photographer and here's how!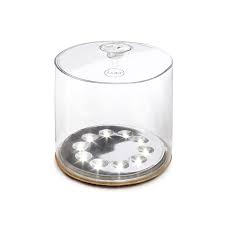 Without the softbox diffusion
No to this one because of the harder shadows and strong highlights
Here is how using such lights will help your photography career. You become better because that's your only option. Success is your only option. You want the big and expensive photography lights but don't have the money to make it happen. You use what's available and affordable to mimic that light. This means you are forced to learn how to rig shoots, how to play with all the camera settings to compensate for a lack of light force. That means you learn how to adapt the surrounding with all kind of ambient light.
If I had the opportunity to hire a photographer and the choices were two:
OPTION ONE: This photographer came with money from their parents and started early. This photographer didn't have to work hard for many things but still had a natural talent for the arts. Their photography is beautiful and thoughtful. There are images shot with a beauty dish and softbox, all kinds of umbrellas and the latest full frame camera. They know all the latest gear and how to use them.
OPTION TWO: This photographer struggled financially and didn't get much assistance from their parents. They too had a beautiful eye but instead, this photographer used what was available to get the portfolio images done. They used lights from the store windows, reflectors made of car sun visors, whiteboards from the dollar store and lights bought at the hardware store because with a little ingenuity it's possible to get great photographs. But since the lights are not officially photography lights, this photographer had to be creative in how they were assembled and even used on set. There are constant irregularities in color temperature and overall quality of light. So this photographer made it work and learned the camera very well, just to compensate where the lights didn't' match up.
Who would you hire? Let me tell you, I would not even have to think about it. I would hire photography OPTION TWO all day, every day, any day and never even look back. If you're that type of photographer, keep reading.
Shooting Without a Permit?
Speaking of budgets, I've never been shy of saying I hate permits for filming. You want me to pay to photograph on the streets that I pay taxes for? If I'm a tourist or regular local, that means I don't have to pay but if I want to build my career and portfolio you'll charge me hundreds for a piece of paper that allows me to shoot?
I skip that process for the test shoots, art shoots, and experimental photo shoots. When I am with a client that is always permitted because I will not put their production at risk. I am not asking you to follow my lead on permits but I gather we might share the same sentiments.
For the pesky neighbors who hate you setting up on their sidewalks, this helps you stay small and have a light footprint. If you don't want to plug into a power source or generator, this is your answer. A few of them produce a lot of light to capture good content for the youtube videos of photographs.
Tell me when would you want to pay the city money for a piece of paper? My friends, it's easier to ask for forgiveness than to ask for permission. The end!
Luci light is a Multi-functional Light
That's another reason why I love the mobility of the Luci lights. You can inflate them or not, and if you do it takes a minute to inflate. You can adjust the light settings and charge your phone all day for a night shoot. My charges last about 7-8 hours of continuous light. You can stash a few in your purse or backpack, even a couple in our pockets. You can get a beautiful photograph anywhere on land, water, or even underwater.
Test it out, be creative and save money. The units that I used were all under $20 each and for about $60 you can have a decent photography studio (a mobile studio).
Learn More With 3 Big Resources!
Photographers as mentioned, I didn't have a lot when starting out. I did wish though there was a community to help me, encourage me and share ideas with me. That's why I created the following communities to help your photography gain momentum.
INSTAGRAM: My Instagram is where it all started. Join me and the rest of us there! It's called @HowtoPhotograph and we post daily tips on photography, the business of photography, how to start your photography career and more. I also post IG Stories and now IGTV.
PRIVATE FACEBOOK GROUP: This is my newest extension and I love it! My PRIVATE Facebook group is exactly that, private and filled with great people. Every day new people join and all of them go through a questioning process. You must promise that you will be respectful and not spam. Hang out with us, ask questions or post your questions. I am very involved in that and contribute also. Also on Thursdays, we do a really cool and free photography portfolio review. The whole community joins and gives notes to those that want to post images. I'm also usually involved in that. Join us!
NEWSLETTER: Do you want to shadow me on set? I pick from my newsletter sometimes. Do you want to work for me, or one of my friends? I sometimes hire from my newsletter. Do you want freebies for workshops, tutorials or big discounts? It's from the Newsletter first! If you can handle 2-3 emails a month...this is for you and your email is always safe with me. Click here to join for free!
UPDATE: Forgot to mention the ISO for the images used (from top to bottom).
ISO 400
ISO 400
ISO 320
ISO 640